Civilization is not a right, any more than water is a right.
Police, an extension of the state, must exercise the monopoly on violence if decent people are to be expected to call a city "home."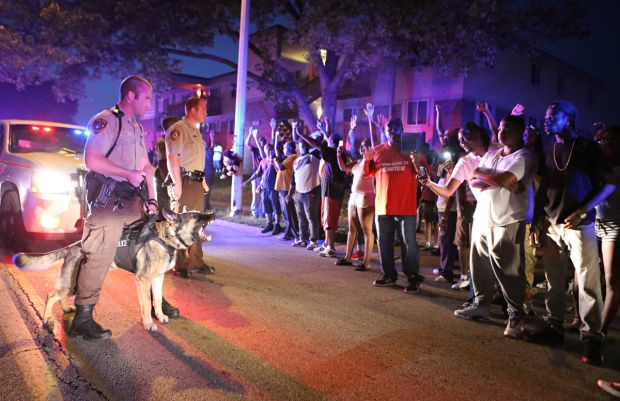 The all-black crowd chanted "kill the police" as those black individuals participating in the rally make life choices that work to kill the civilization white people once created in St. Louis...
In once all-white suburbs of cities like Atlanta, Birmingham, Charlotte, St. Louis, Baltimore, Chicago, Memphis, Nashville, Orlando, Detroit, and Milwaukee, police are basically full-time babysitters; they exist to keep high schoolers from driving too fast, throwing a kegger when their parents aren't home, or rolling an ex-girlfriend's house.
But in cities where white people are primarily only visiting for 40-hours/a week (commuting to for - and from - work) or wearing a badge as an officer of the law, the police are the last vestiges of a civilization quickly regressing to the black mean.
Cue the Michael Brown into... [
Police: Ferguson teen struggled over officer's gun before being shot to death
, St. Louis Post-Dispatch, 8-10-14]:
An unarmed teenager killed Saturday by Ferguson police, spawning continuing community unrest, had struggled for an officer's gun in a patrol car first, authorities announced this morning.
St. Louis County Police Chief Jon Belmar said one shot was fired by the officer's gun inside the car during the struggle, hitting no one, and that the officer then fired multiple times at Michael Brown, 18, as he ran away.
Belmar did not indicate whether police think the shooting was justified.
He said the shots that hit Brown were "more than just a couple but I don't think it was many more than that." He said an autopsy was pending and that a toxicology test would take as long as six weeks to determine whether Brown had alcohol or drugs in his system.
Belmar promised a full investigation that might also include the FBI. He said the results would be forwarded to St. Louis County Prosecuting Attorney Robert P. McCulloch, whose office would decide whether criminal charges were justified.
The chief noted that as Ferguson Police Chief Thomas Jackson arrived at the scene Saturday, he called Belmar personally to ask for a county investigation. "I would not think anybody would do that if they had anything to hide," Belmar said.
Jackson sat beside Belmar but did not speak in a short press conference at 10 a.m. at the community's firehouse.
Belmar said he had not consulted the FBI but would call today. The FBI can investigate a police use-of-force incident as a possible violation of constitutional rights. Belmar emphasized that these are "standard protocols."
In Washington, a Justice Department spokesperson said that Attorney General Eric Holder has asked attorneys from the civil rights division to monitor the case.
The officer who fired, whose name has not been disclosed, is now on administrative leave. Belmar said that officer has been on the Ferguson force for six years and appears to have "no other issues" in his past.
Belmar said the officer had an encounter about noon Saturday with two "individuals" and was pushed back into his car and "assaulted" by Brown. The chief did not again mention the second person, nor did he describe the reason for the initial contact.
Belmar and Jackson left the press conference as reporters continued to call out questions.
Officials said later there was no truth to a rumor sweeping social media that the second person, a young man, had been found dead. Some protesters who continued a vigil this morning outside the Ferguson police station said Jackson told them that man planned to bring his lawyer to meet with police.
State Sen. Jamilah Nasheed, D-St. Louis, and the St. Louis NAACP also have said they would seek a federal investigation.
Angry residents took to the streets after Brown was killed in the 2900 block of Canfield Drive. Some shots were heard in the crowd that gathered, but nobody was injured. Some people chanted obscenities and "kill the police" as about 60 officers from multiple jurisdictions gathered.
Today, a large group of protesters remained outside the police station at 222 South Florissant Road — some of them screaming at officers standing watch and calling for the name and resignation of the officer who killed Brown.
One of those present, Shontell Walters, of Berkeley, said many took exception to the presence of police dogs. "They are trying to instill more fear in us," she complained.
Eric "My People" Holder and Barack "If I had a Son" Obama won't let this injustice stand. One of them will address this shooting in the next two days, if not sooner.
One of the 10 simple ways to restore balance to the universe would be the cessation of policing majority black cities in America.
Police, trying to uphold the white man's law in these majority black areas, are damned if they do and damned if they don't: if they set up stings trying to get dangerous criminals off the streets (thereby making the black community safer), they are deemed as 'profiling'; if they don't do anything to stop the carnage of black on black crime, professional black agitators and black clergy will march, protest, and hold news conferences where a fawning local - and national media - will immediately side with anyone but the police.
Granting police extra powers (in the name of defending civilization) means they are prepared to act on behalf of civilization, thwarting the spread of barbarism and working to keep property owners investments in the community safe from the ravages of the Visible Black Hand of Economics.
Black communities, where the only white person seen is a member of law enforcement, lack amenities white people take for granted (restaurants, quality schools, retail, non-plexiglass convenient stores, non-potholed streets, and manicured lawns) for simple, undeniable reason: they lack black people who, in large numbers, work to drive away restaurants - since they have no purchasing power, outside the EBT/Food Stamp card - and convince those few businessman still operating in the area to invest heavily in plexiglass to keep their employees and property safe.
Civilization is not a right, any more than water is a right.
If every act - by the police - against an individual black person is interpreted as an act against the black community at large, then it's time to remove this burden once and for all... pull the police from black communities, areas now virtually indistinguishable from Port-au-Prince, Haiti, or Monrovia, Liberia.