"When a hunter goes out in the rain forest to seek food for his family, does he expect to control nature? No. He imagines that nature is beyond him. Beyond his understanding. Beyond his control. Maybe he prays to nature, to the fertility of the forest that provides for him. He prays because he knows he doesn't control it. He's at the mercy of it. But you decide you won't be at the mercy of nature. You decide you'll control nature and from that moment you're in deep trouble, because you can't do it. And you can't do it – and you never have – and you never will. Don't confuse things. You can make a boat, but you can't make the ocean. You can make an airplane, but you can't make the air. Your powers are much less than your dreams of reason would have you believe. " -- Ian Malcolm, Jurassic Park
We live under the terror.
A terror known as the
Kerner Commission Report
.
There is no moral authority to confront the enormity of the terror, when every failure of non-whites can be blamed on '
white racism
'.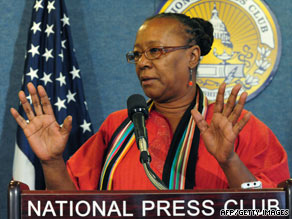 No individual can speak against the horror the terror has unleashed, protesting even the most comical admission of what it plans to unleash nationwide. [
ACORN's former chief calls for more immigration to boost black power
, Daily Caller, 9-21-13]:
The terror, plainly elucidated.
Not a peep of opposition.
Not a hint of protest.
For the terror of the Kerner Commission Report ensures any transgression against the historic majority population of America (indeed, the founding population) can be explained away as some justifiable form of 'payback' against past white racism.
But nature is cruel.
The terror has leveled Detroit.
It's leveled Gary (Indiana), with emergency funded needed to remove
10,000 'blighted' homes
-- a poetic representation of nature thwarting the ideas of social engineers.
Newark's black citizens turn in their guns to be converted into jewelry (
The Caliber Collection)
.
In the 1960s, white America went into space, even stepping foot on the moon.
In the 1960s, black American burned white America's major cities, and white America's leaders blamed 'white racism' for actions of blacks.
The terror was unleashed with the Kerner Commission Report.
Your only job is to simply survive the terror until it loses its authority; until this order becomes untenable.
People like Bertha Lewis must be allowed to continue showcasing the true nature of this unnatural order.