Only days ago, a mob (fueled on the hashtag of the moment, #BlackLivesMatter and #EricGarner) in New York City marched.
They marched to one battle cry: the need for dead cops. [
Millions March NYC: 'What do we want? Dead Cops. When Do We Want It? Now.'
, Fox News, 12-14-14]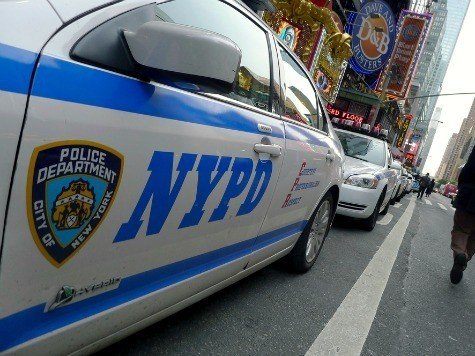 On August 9, Officer Darren Wilson unwittingly started a revolution... what most people have failed to realize is who this revolution actually benefits (hint: not the #BlackLivesMatter marchers)
Only six days later, a black man in New York City decided to bring this battle cry to fruition. [
Gunman executes 2 NYPD cops as 'revenge' for Garner
, New York Post, 12-20-14]:
Two uniformed NYPD officers were shot dead Saturday afternoon as they sat in their marked police car on a Brooklyn street corner — in what investigators believe was a crazed gunman's ­assassination-style mission to avenge Eric Garner and Michael Brown.

"It's an execution," one law-enforcement source said of the 3 p.m. shooting of police officers Wenjian Liu and Rafael Ramos.
The tragic heroes were working overtime as part of an anti-terrorism drill in Bedford-Stuyvesant when they were shot point-blank in the head by the lone gunman, identified by sources as Ismaaiyl Brinsley, 28, who had addresses in Georgia and Brooklyn.
Neither cop Ismaaiyl Brinsley executed was white, but both cops wore the same uniform as Officer Darren Wilson.
Both cops Brinsley executed were culpable in Michael Brown's death on August 9th, merely because the mainstream/corporate media (looking at you Jon Stewart) and the Obama Administration has declared war on the concept of law and order, advocating instead for the ascension of "if its black, you must get back" concept of policing.
Both cop, in Brinsle's mind, were responsible for death of Eric Garner.
Eventually, the energy from the #BlackLivesMatter, #EricGarner, and all those 'die-ins' at malls and public places throughout America was going to manifest into something ugly, and only six days after a march through the Big Apple heard the cry for "dead cops" echo throughout the dark landscape of the city, two New York City police are dead.
The championing of thugs as the highest form or morality has consequences, and the #BlackLivesMatter movement now has a face and a name: Ismaaiyl Brinsley.