The opiate of America...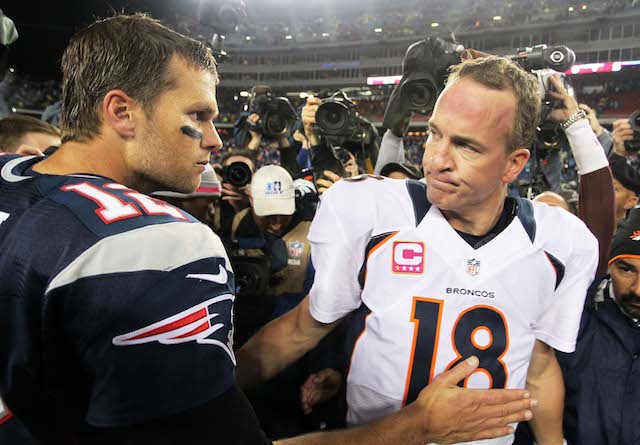 Old America (Brady and Manning)...
We shouldn't even care what goes on the football fields of America, if it didn't reflect why so few care about what's going on off the gridiron in the USA.
My team wins (alma mater), your team loses.
That's all that matters.
Right?
Wrong.
... meet New America (Wilson and Kaepernick)
In the
latest PK piece at VDare.com
, a close look at the racial dichotomy between the AFC and NFC Championships begin played today is the theme of the article: the role of quarterback is being ghettoized before our eyes, with a fawning media cheering this development at every step.
Tom Brady and Peyton Manning vs. Russell Wilson and Colin Kaepernick. [
Diversity Bowl: NFC Championship Game Has Two Black Quarterbacks, AFC Two White Ones—Which Is The Future?
, 1-18-14]:
Oh, it's so close to happening—at last!
Years of careful social engineering by the new, Main Stream Media-approved National Football League (NFL), and the promotion of a more athletic, "exciting" type of quarterback by the Main Stream Media, are nearing a triumphant conclusion.
In the National Football Conference championship game held Sunday to decide who goes to the Super Bowl, the two finalists—the Seattle Seahawks and the San Francisco 49ers—each start "dynamic" black quarterbacks, Russell Wilson and Colin Kaepernick respectively.

A clearer contrast could not be seen than with the two American Football Conference finalists, also meeting Sunday: the New England Patriots and the Denver Broncos, whose starting quarterbacks will be Tom Brady and Peyton Manning respectively.

Both are white—two old-style, immobile signal-callers, playing the role of Dennis Quaid's drop-back passer who was contrasted with Wilson's/Kapernick's Jamie Foxx character in Oliver Stone's prescient 1999 movie Any Given Sunday.
Read the rest at
VDare.com
and be sure to share with your friends smoking vast amounts of the opiate today.