By every possible metric measuring social capital in a community, the 80 percent black city of Selma is a monumental failure.
So, the new and improved Selma in 2015 is plagued by extreme poverty, STDs, high crime, terrible schools, a terrible business climate, high unemployment, low property value, low civic engagement and racial strife by the likes of Faya Rose Toure. Yet the Voting Rights Act was unquestionably a huge success in Selma where blacks now occupy every public office which their numbers allow them to dominate.
It's their city now, with Selma's current conditions a reflection of its majority black population. [Selma's message on civil rights 50 years later:As President Obama prepares to visit Selma five decades after 'Bloody Sunday,' how the civil rights struggle has – and hasn't – changed an epicenter of the movement., Christian Science-Monitor, 3-6-15]:
True, Selma now has black leaders in positions of power, including the mayor, police chief, district attorney, six out of eight city council members, and four out of five school board members. True, Selma's black population is quick to speak out against injustices – and has overcome innumerable ones.
But the journey toward equality is still a long march. Black children here are more likely to grow up in poverty, less likely to graduate, less likely to attend college, and less likely to become homeowners. Sections of Selma remain sharply segregated, partly because of white flight and partly by choice. Jobs are scarce, and even harder to obtain for those who lack adequate education and skills.
But none of this matters, because Selma is only recognized every March when every last ounce of white guilt can be squeezed out of the crumbling majority black city.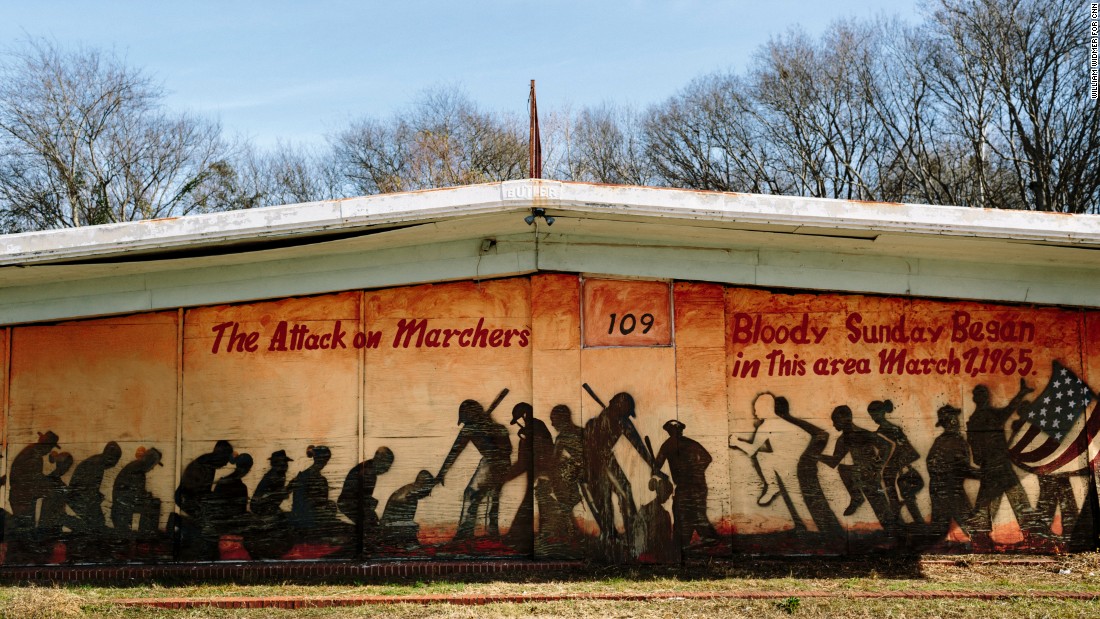 A mural in Selma, located on the side of building easily accessible for those taking the pilgrimage to the Edmund Pettus Bridge...
The Edmund Pettus Bridge in Selma is America's holiest site, the equivalent to Mecca and the Hajj (the pilgrimage yearly taken by Muslims to circle around the Kaaba); it isn't out of the question to believe white journalists and academics pray to Selma five times a day, knowing the mere mention of the horrors blacks once faced on the bridge will help perpetuate the system known as Black-Run America (BRA).
When will pilgrims to the city every March baptize their children in the waters of the Alabama River running underneath the holy Edmund Pettus Bridge?
This has to be the next turn of events, right? Perhaps the black officials in charge of the black city of Selma could start to charge those pilgrims to Selma hoping to "walk in the footsteps of the civil rights movement" a few dollars before they get the chance to cross the Edmund Pettus Bridge (using Google Earth, you can cross the Edmund Pettus Bridge from the comfort of your own home!).
Maybe for a few more dollars, the pilgrim can get the "beat by white policeman" package so they can truly experience the authentic experience of crossing the Edmund Pettus Bridge as those noble blacks endured back on Bloody Sunday in 1965.
For a few dollars more, you can even chisel out of piece of the bridge!
Such entrepreneurial innovations for the 80 percent black city of Selma might be the only way to raise any type of funds, considering the bridge seems to be the only thing keeping the city afloat. [With a scarcity of jobs, decrepit houses and resegregation of city's only high school, Selma, Alabama, is once again in need of saving, New York Daily News, 3-8-15]
Fifty years later, this historic Southern city is once again in need of saving.
Decrepit houses — burned out and boarded up — fill entire blocks. Jobs are scarce. And the city's only high school has been re-segregated.
It's going to take much more than another march to rescue Selma, the cradle of the modern civil rights movement.
"It's probably worse than it's ever been," said Sheyann Webb Christburg, 58, who grew up in Selma and participated in the Bloody Sunday march.
"People have spent so much of their blood, sweat and tears fighting to improve things, and even 50 years later, you're still seeing much of the same."
A tour of the city's majority-black east side reveals neighborhoods that resemble post-Katrina New Orleans.
Many of the homes along Martin Luther King St. feature collapsed front porches and cratered living rooms. Some lack doors and windows, and now serve as a haven for squatters living without running water. Others are boarded up and abandoned, blighting what used to be middle class neighborhoods.
Even some of the city's churches have fallen into disrepair. The old Sylvan Street Presbyterian Church, deemed a "significant landmark" in 1980, is now a pile of bricks and concrete.
The once-bustling downtown sports more empty storefronts than actual businesses. Gone are the high-end clothing stores, theaters and cafes.
The Edmund Pettus Bridge, where hundreds of marchers were brutally assaulted by police in 1965, remains the city's focal point. The famed bridge still draws visitors — but there's little else in town to keep them here.
"All this city got is history," fumed Selma resident Arsenio Gardner, who's 25 and unemployed. "If this bridge wasn't here, it would just be another f----d-up place nobody would visit."
Arsenio Gardner is correct: all 80 percent black Selma has is the Edmund Pettus Bridge, with a lot of other signs white people once lived there crumbling into their footprints... buildings were white people once built up a once-bustling downtown full of tax-revenue producing businesses are now boarded-up or piles of bricks and concrete.
Or just empty, where if you listen long enough one can actually hear the ghosts reminiscence about a Selma where actually lived to walk the downtown streets everyday... instead of just in the early part of March each year when the world remembers Selma exists because of what happened in 1965. [Selma still struggling with social segregation, unemployment & crime 50 years after Bloody Sunday, Al.com, 3-4-15]:
"We need more jobs and crime needs to get better, because if the crime doesn't get better, then no jobs are going to ever come here," said Tony Hall, a 38-year-old black Selma resident who does landscaping, repairs and other work at Selma City Hall.
Consequently, many residents are still suffering from the wounds inflicted during the Jim Crow era, which are still visible today in the sorry state of Selma's public schools, crime rate and economic vitality, according to a number of black residents who spoke with AL.com late last month.
White people will always be blamed for the horrible academic performance of the 99 percent black Selma Public School system, just as white people will always be blamed for individual black people in Selma failing to collectively create the type of community that business owners deem an economically viable city for investing in...
Crime? Obviously it's the ghost of a former white Selma resident goading a current black Selma resident into robbing a store or private residence, or pulling the trigger of a gun...
Wait... what was that noise? It's one of the Selma "Call to Prayers," the five-times a day all citizens of America are to face toward Selma, Alabama and pray to those courageous souls who marched across the Edmund Pettus Bridge...
one small step for a black man, one giant leap for inducing white guilt.
There's nothing to celebrate in modern Selma, where the remnants of the civilization Europeans built is crumbling to bricks and concrete; while the Africans in America in charge of the city whine about the legacy of Jim Crow for keeping them from abiding by the law, performing well in school, and creating the type of community where outside investors would consider opening up businesses.
On your knees and pray to Selma, where the holy Edmund Pettus Bridge stands as a reminder to the great racial divide existing between Europeans and Africans: just look at the state of the city - built by whites - under complete black control!