Were you not aware of the type of world individual black people collectively create, the two stories to be quoted below would stretch even the most imaginative "racist's" credulity to the breaking point.
The city of St. Louis (49 percent black and 43 percent white) seems to have a black population boasting many individuals attempting to break into the Hollywood and join the ranks of the Black Stuntmen's Association.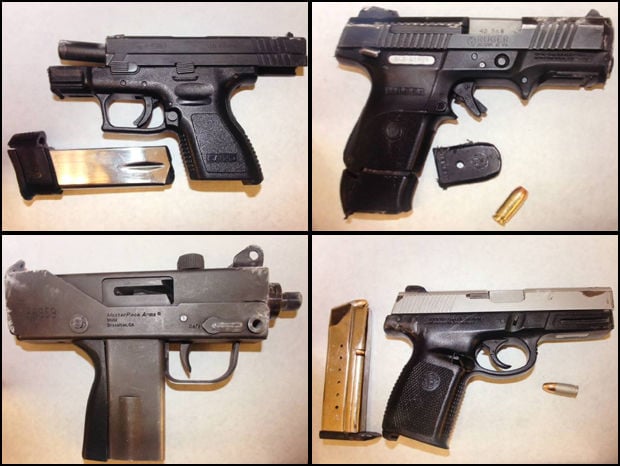 Discarded weapons found by police after two car loads of black people engaged in a rolling gun-battle on Interstate 44 in St. Louis at 11 a.m. on a Thursday morning; two black males were killed... but that's not the craziest thing black people did in St. Louis over the past week
What else could account for a rolling
gun-battle involving two carloads of black people
along Interstate 44 around 11 a.m. on Thursday, March 19? [
St. Louis police identify two men found fatally shot after rolling gunbattle on I-44, St. Louis Post-Dispatch, 3-19-15]:
Police on Thursday identified two men found shot to death in the LaSalle Park neighborhood after a lunch-hour rolling gunbattle Wednesday along Interstate 44.
Police identified the dead as Derrick Roberts, 21, of the 1900 block of Warren Street in St. Louis, and DeJuan Etheridge, 21, of the 300 block of Behlmann Meadows Way in unincorporated north St. Louis County.
Roberts and Etheridge were passengers in a Dodge Charger involved in a shootout with a Toyota Camry about 11:50 a.m. along I-44 near Hampton Avenue, police said. Roberts was found dead outside the Charger after the car's driver abandoned it in an alley in the 900 block of Park Avenue. Etheridge was found dead in the back seat of the Charger.
A 23-year-old man believed to be the driver who had abandoned the Charger was later found when he sought hospital treatment of a gunshot wound to his shoulder, police said. That man was treated and released from the hospital to police.
Authorities say there was another passenger in the Charger, but have not yet found that person.
Police are still looking for the Camry involved in the shootout. An off-duty city police officer in a car saw some of the shootout and followed the cars for a brief time but backed off, police said.
Officers found heroin packaged for sale and a couple hundred dollars in cash in the Charger, police said. I-44 was closed from Hampton Avenue to downtown for a time as police collected evidence along several miles of the highway. A gun was found between Compton and Nebraska avenues, with a magazine a little farther away.
Back at Kingshighway, at least 10 casings could be seen on the pavement.
In all, police found four guns along the highway.
Guns and bullet casings littered the streets of St. Louis, where Derrick and DeJuan made their final stand.
But this story doesn't hold a candle to what occurred Sunday, March 22 in St. Louis. [Shooting suspects' car rams St. Louis police car, bursts into flames, St. Louis Post-Dispatch, 3-22-15]:
Two police officers suffered minor injuries in a police pursuit Sunday night when four shooting suspects in a stolen vehicle rammed a patrol car.
The suspects then lost control of the stolen vehicle and hit a metal pole. Their vehicle burst into flames.
All four suspects inside the burning car got out on their own. Three ran off, and police captured the fourth.
No one was injured in the car fire.
One officer suffered a minor injury to an arm. He had been getting out of his patrol car when it was struck, police say. Another officer hurt his finger. Both officers were treated at a hospital and released.
Police say the pursuit stems from a shooting just before 9 p.m. Sunday in the 4400 block of Kennerly Avenue. A man, 20, told police he had been walking near the intersection of Newstead and Kennerly avenues when he was shot on his right side.
He saw two men run off.
Witnesses gave police a description of the getaway car. The shooting victim was being treated at a hospital, where he was stable, police say.
At about 10:15 p.m., officers patrolling near Martin Luther King and Laurel avenues saw a car matching the one from the shooting. Police tried to pull over the car, but the driver took off.
As one of the officers at the scene got out of his patrol car, the suspects' car rammed the police car. The suspects' car then hit a pole and caught fire.
What?
Four black people in a stolen car ram a police car, the driver of the
stolen
car then losing
control
and crashing into a metal pole... where it
subsequently
burst into flames?
What?
Though the
media
is primarily concerned with Mississippi Burning again, the recent activities of black people in St. Louis are a reminder of just how precarious the situation in 2015 actually is for the country escaping the warmer months without a high-profile 'police encounter with a black person gone bad'...
Jack Frost is gone, and with the winter weather goes the only force keeping our impulse control challenged, future time-orientation lacking black population from engaging in behavior inevitably leading to a '
police encounter with a black person gone bad'.
It says something profound about the state of our country, when one racially charged situation can potentially disrupt race relations permanently; it says something even more profound about our country, when the media is actively covering any situation involving a black person that could be the catalyst for this moment...