Before we begin, read this one important quote.
Since the death of African-American teenager Michael Brown, civil rights activists have called for change in police departments and municipal courts — but also in the way society thinks about black lives.

Only moments before the melee (courtesy of Africans in America) breaks out... "

beneath a ceiling painted with allegorical images of Western democracy"
Not content to sit back, a wide array of churches are leading the charge, intentionally prolonging the conversation on race that has left some in the region uncomfortable.
"God is engineering liberation," said Dietra Wise Baker, pastor at Liberation Christian Church and co-chair of Metropolitan Congregations United, a group of interdenominational, multiracial congregations from around the region.
It "can't be a people that rise up, but the people. We have to rise up together. This can't be one community's fight."
In a separate Sunday gathering across town at Faith Church St. Louis in Earth City, for example, about 1,000 people met with faith leaders such as William Franklin Graham IV, grandson of evangelical preacher Billy Graham, and Aeneas Williams, a former St. Louis Ram turned pastor.
Their pastors signed the "Ferguson Declaration," a commitment "to support our leaders, our neighbors, and each other as we rise from the ashes of Ferguson and become an even better St. Louis."
Back at St. Louis University, Deb Krause, a New Testament professor at Eden Theological Seminary, called the current state of affairs in Missouri and the wider United States "a life-and-death matter."
The country, Krause said, is built on "this kind of mythic banner of equality" that denies the lived experiences of African-Americans.
"In our society, all lives do not matter equally. Black lives have been deemed to matter much, much less," Krause said.
Were you able to pull out the quote? Recall, many of those churches mentioned above offered sanctuary to rampaging,
insurrectionary
blacks back in late November, a safe haven to hide from police
scrutiny
after burning and looting Ferguson.
No one cares to remember the actual facts of the story surrounding Michael Brown's death, an incident completely dependent on his actions in: stealing cigars, walking in the middle of the road, refusing to cooperate with Darren Wilson's request he walk on the sidewalk, attacking Wilson and trying to grab his gun, and then charging at him again which required Officer Wilson to put him down.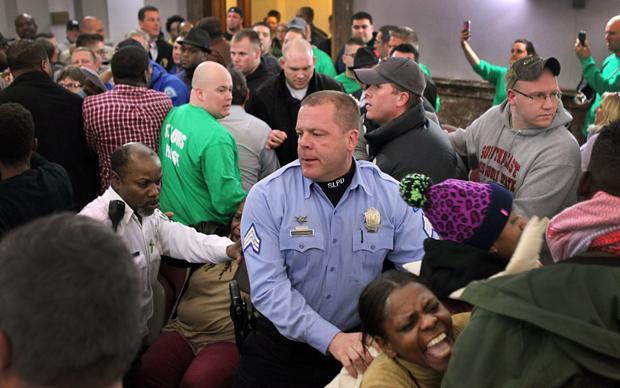 The melee breaks out (courtesy of Africans in America)... "

beneath a ceiling painted with allegorical images of Western democracy"
All those who are pushing (and signing) the "Ferguson Declaration" care about is promoting the narrative of an angelic Michael Brown viciously being executed by "Jim Crow-in-the-flesh" Officer Wilson.
The monologuing on race must continue, with only one side allowed access the distribution of acceptable dialogue on all matters Michael Brown.
Those pushing this narrative never met Jeff Roorda,

the business manager of the St. Louis' police union, who was in attendance at the open meeting at City Hall on January 28th where the topic of conversation was the

creation of a civilian oversight board of the police department (civilian oversight board meaning = unaccountable black people demanding police stop arresting black suspects).
Dressed in a suit and sporting one of those "I am Darren Wilson" bracelets the Department of Justice (DOJ) hate so much, Roorda dared remind those at the meeting another side of Michael Brown story exists.
[
DOJ asks Ferguson chief to stop police from wearing 'I am Darren Wilson' bracelets on duty
, St. Louis Post-Dispatch, 9-27-14]
And in so doing, a hilarious reminder of why any city with a large black population can no longer be called "
civilized
" broke out. [
Public hearing on civilian review board for St. Louis police erupts in chaos, St. Louis Post-Dispatch, 1-28-15]:
An open meeting at City Hall on the creation of a civilian oversight board of the police department devolved into a melee on Wednesday night, further exposing the city's deep divisions over race and law enforcement.
The meeting held by the aldermanic public safety committee, designed to seek public comment, lasted more than an hour with little event as residents ticked off the pros and cons of having a civilian board to review police conduct and procedures.
But the crowd became unsettled when police officers began testifying in opposition to the bill. At times, Alderman Terry Kennedy, who chairs the committee, struggled to keep order. The noise in the room spiked as police officers attempted to testify.
At that point, Jeff Roorda, the business manager of the city's police union, stood and called for order. Roorda was wearing a wristband in support of Darren Wilson, a former Ferguson police officer whose fatal shooting of 18-year-old Michael Brown last summer sparked months of civic unrest.
After Roorda stood up, the crowd grew louder.
"Excuse me, first of all, you do not tell me my function," responded Kennedy, who has championed the issue of civilian review for more than a decade.
Standing in the aldermanic hearing room packed with people shoulder-to-shoulder beneath a ceiling painted with allegorical images of Western democracy, Roorda shouted back at Kennedy.
Others began yelling, then pushing and shoving as officers struggled to maintain control. Some in the crowd scrambled to leave the packed room, which has only two exits.
The commotion lasted for about 15 minutes until order was restored.
No, the allegorical images of Western democracy are represented in the looting and burning of Ferguson by black youth. The video of one of these incidents was recently released, with blacks complaining about "
law enforcement attempting to subvert the emerging narrative of Black youth energized and engaged, flooding the streets of this country in demonstrative displays of their anger."
[Police release insane Ferguson looting video, are criticized for
transparency
, HotAir.com, 1-22-15]
That's the reality of what Western democracy has degenerated into; and merely by showing up at a meeting of these jackals, an "I am Darren Wilson" bracelet wearing
Jeff Roorda showed us what a farce this whole affair represents.