PK Note: Thanks to all those who made donations to help out the SBPDL Fall Fundraiser. Overwhelmed would be an understatement. If you haven't (and made a donation), email me at SBPDL1@gmail.com with your address so I know where to mail books to! And, if you haven't, consider making a donation via PayPal on the right-side of the site.
For years, the St. Louis Symphony has been trying to attract a minority audience (
as have orchestras across the country
). From the
St. Louis Symphony's web site: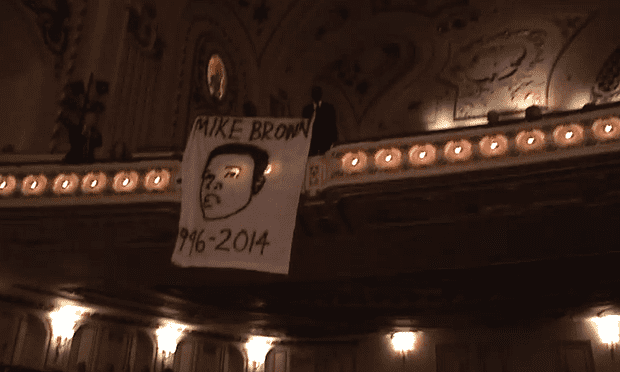 Finally... all the minority outreach via the St. Louis Symphony pays off!
IN UNISON®

Enriching people's lives through the power of music by providing experiences and opportunities that serve as a bridge between diversity, community and legacy.


Our flagship diversity initiative, IN UNISON® was created in 1992 to provide high-quality musical resources to the African-American community, specifically through specialized outreach to member churches participating in the program. St. Louis Symphony musicians present free performances in at least half of the more than 40 member churches annually. Formed in 1994, the IN UNISON® Chorus is comprised of 120 people from throughout the African-American community performing as part of the STL Symphony's season – all three concerts featuring the IN UNISON® Chorus now attract capacity or near-capacity audiences. Additionally, the IN UNISON® program encourages young people of diverse backgrounds to study music and has, through the years, recognized them for their talent and hard work through the awarding of scholarships and awards.
Some clown named Greg Sandow (a classical music critic) has a web site, where he quotes the community relations director for the St. Louis Symphony and the
organizations to outreach to the black community
:
Kevin Smoot, Community Relations Director, St. Louis Symphony

We have a partnership between the orchestra and principally African-American churches. We started in 1992, with five congregations. They were proposed through the black clergy coalition, which selected the initial churches. Today we have grown to 24 member organizations. We have a waiting list of ten churches.
It's a mutually beneficial situation. There's no charge or fee. One of the benefits is that each organization receives a one-hour free concert in church by Symphony musicians. They started off as purely classical. But we've broadened our horizons. Our musicians lead regular lives. Rather than a purely classically driven program, they'll play everything from Bach to Thelonious Monk. That's a great connector, breaking down barriers. Almost the entire orchestra is involved. They're willing to share their time and talents to go out into the community. A lot of them want to branch out and learn more about themselves, and by their nature they give anyway. We have a community partnership program, a voluntary program that the musicians can participate in. They acquire points by participating. If they get enough, they get time off. A large portion of our orchestra participates.
One of the benefits is that the organizations have to sell 100 tickets in the course of the year to the orchestral season. They're deeply discounted.
We also have the St. Louis Symphony In Unison Chorus, principally African-American, 120 voices. As a result of all this, the attendance base of minorities, principally African-American, has increased tremendously. Also hall rentals. There's broad participation across the board in virtually every facet of the symphony, even volunteering.
"Deeply discounted" tickets for the orchestral season? It's obvious the "minority outreach" isn't working.
Until this weekend.
WUNC.org: "Justice for Mike Brown is justice for us all," protesters sang, before asking the audience, "Which side are you on, friend? Which side are you on?" Well... I'm on Darren Wilson's side.
For the same reason the Ferguson StreetFest had to be cancelled [
Ferguson StreetFest cancelled due to recent unrest
, Fox2Now.com, 9-24-14], we now know how "minority outreach" is going to work for the St. Louis Symphony. [
Michael Brown protesters interrupt St. Louis Symphony performance
, Fox2Now.com, 10-4-14]:
It was a moment that many at Powell Symphony Hall did not expect.
Mike Brown demonstrators started singing and chanting just before the orchestra and chorus started performing a piece.
The incident happened around 8:45 on Saturday night inside Powell Hall.
'It was certainly unexpected. I think it took everyone in the hall by surprise,' said Erika Ebsworth-Goold, the publicist for the St. Louis Symphony.
She was backstage when it all took place.
She says the intermission was ending and the St. Louis Symphony and Chorus were preparing to perform Brahms` German Requiem when the demonstrators stood up and started singing.
'The orchestra had assembled, the chorus was on the stage, our soloists were on the stage, and so was our conductor. We were just getting ready to start when this happened,' explained Ebsworth-Goold.
She says the demonstrators were in different parts of the arena and that they were all paying audience members.
The group displayed banners regarding the mike brown case and chanted 'black lives matter.'
After a few minutes, demonstrators left the hall peacefully.
But before leaving, the group dropped red paper hearts over the balcony that read in part 'requiem to Mike Brown.'
There was some clapping in the hall during the demonstration both from audience members and performers.
'There were a number of patrons inside the hall who were apparently very moved by what these people had to say,' said Ebsworth-Goold.
Symphony officials call what happened a delay to the concert and not an interruption since the symphony and chorus hadn`t resumed performing yet when the demonstration took place.
That is something they are grateful for.
As for potential security changes at Powell Hall, Ebsworth said, 'These were people who had paid money to come see the concert. They were patrons of ours, and we`ll discuss it certainly but I can`t see any major security protocol changes at this point.'
Ebsworth-Goold tells us there were about 50 demonstrators last night and there were no arrests.
The symphony had another performance at 3pm Sunday afternoon.
So, did this Requiem for Michael Brown occur because of the St. Louis Symphony program with the black churches of St. Louis, which offers deeply discounted tickets to performances to blacks?
The answer is obviously yes.
Those preaching "Requiem for Mike Brown" asked the audience: "Whose side are you on?"
A terrifying question, when you consider the answer you give could result in the taking of your life (terrorism at its finest.. and you're worried about ISIS?).
Ebola isn't the threat to civilization in St. Louis...